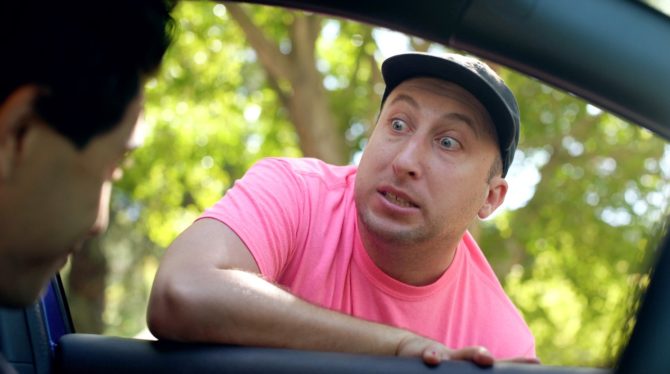 "Sorry, I'm having a salad."
We meet Michael Henry in the backyard of a popular Hollywood cafe where, yes, he's eating a modest salad. Dressed in his branded cap, t-shirt and shorts, it looks like he just stepped out of one of his comedy videos on YouTube. It seems fitting: We finally caught up with Henry to discuss his latest comedy project, the digital sitcom Hot Homo Summer. New episodes drop weekly on YouTube.
Hot Homo Summer finds Henry and his frequent collaborators in full social mode after the one-and-a-half-year lockdown of COVID-19. Rested, restless and hungry for the company of man Michael (played by Henry, of course) and his friends decide to have a summer full of parties, swimming pools, and lots of gay sex. Of course, just because the pandemic has subsided doesn't mean that everything has changed, as Michael soon learns.
Hot Homo Summer finds Henry returning to a serialized format, his first series since The Journey of Being Likable in 2017. Since that time, he has continued to release his videos of popular comedy skits, offering commentary on life in the queer world. . He also landed a slew of Queerty Award nominations for his work.
We caught up with Henry to discuss the new series, his career path, and his true take on gay life. New episodes of Hot Homo Summer air weekly on YouTube.
So you are someone who specializes in comedy skits. What made you want to go further and make a series?
I wanted to stretch out and tell a full, narrative story.
It's great, to surpass yourself as a writer.
This is because a lot of people who make money on social media will just follow what makes them money, which gets interest. I do this for artistic purposes. I'm really fulfilled artistically doing sketches, but I also want to diversify.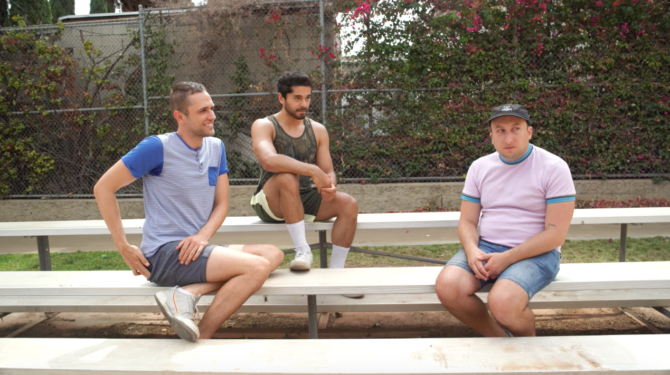 Awesome. When the trailer fell, I saw a commentator calling it the Michael Henry Extended Universe. The new MCU. Has the intention always been to bring back some of the "characters" from your various other sketch videos?
You know, during the pandemic, I had lots of ideas. I had a lot of downtime too, like a lot of people. So I continued to stick ideas on my wall that could be plot points or characters. I didn't really think that in the end I would put it all together and do a web series, I was just like let's do this. So I organized everything together for a few weeks.
So much real independent cinema – go ahead, do it.
100%. This time around, I did it less in guerrilla style. I actually got permission for the locations. But this time, I really only had ideas. At the beginning of May, I wrote most of the series and organized its shooting. And that was it. i was really like let's do it. I feel like when you sit down and cook something up, it doesn't really happen. You just have to do it.
Your comedy style borrows a lot from Looney Tunes, but there's also a bit of Jonathan Swift-style social commentary. There is always an underlying stream of thought. Plus, you walk around outside Linoleum City in a disco costume legitimately made me chuckle.
[Laughter]
You might as well ask: who are your inspirations? Who do you want to imitate?
My general inspirations are The golden girls, John Waters and the Bare gun and Plane series.
David Zucker. I got you.
Yes. All the Elements: John Waters has that indie and queer outlook. Plane for a really weird and fun edit. And also, Paul loves sound effects. And then I leaned over it, people loved it. It's in the comments: people love sound effects and weird editing stuff. And I like Daddy's Girls just because of their real relationships with each other.
I would also like to point out that both Golden girls and John Waters — who doesn't get enough credit — have a lot of social comments about them.
Yes.
Much of your work revolves around what a friend of mine calls "homoshame". That is, elements of queer community or queer life that are embarrassing or stereotypical to the community, but that we somehow own. How much does your personal experience fuel your comedy?
100%. I mean, approach everything from an outsider's point of view.
Why is that?
I come from an outside perspective because I have never felt celebrated in the gay community. I can only speak to the fact that I have lived in Los Angeles for 12 years. I spent all of my 20s here, all of my gay training years, really. And I never felt wanted or popular. And also, in the industry, I have never felt these things. So I come from the perspective of a general stranger in life. It's a story that I love about my work, because I think a lot of people can relate to the outward feeling of looking inward.
There is also an irony in that: you have become a voice, a community icon for comedy by being an outsider. I am not sure what that means.
It means a lot more people than you think are looking at my stuff. It's interesting people who come to me and say they like my stuff. It is always the foreigner. It's not very often that it's the hunk with an OnlyFans who says "I like your stuff". It does happen, but it's usually not the people I'm talking to. I think the outsider perspective is what's relevant and endearing and keeps people rooted for the character that I am in my videos.
Seems like it came from a place of frustration.
Totally.
And, I dare say it, anger. But you don't look mean. When you write, how do you manage not to be mean?
I always make sure I have some punch; I never knock. I will never make fun of anyone's appearance or anything derogatory. I try not to be bitter or complain. Funny is the key to all of my business. When I try to do comedy this is the # 1 thing. Bitter is not fun to watch. And there are a lot of drafts that I write. There are bitter drafts.
[Laughter]
But the final version is generally humorous.
It's good. Do you see it more as condemnation or comments on elements of the community?
I'm just trying to make sure they're observations. I do my best to make sure that I don't tell people what to do and what not to do. I do my best to have conversations and share the perspectives of my characters. You can infer how I feel, but it's not my place to tell another adult what they should or shouldn't do, as long as they don't hurt someone.
It's good.
I made a video on G [the drug GHB] once. This one, I followed the line. It's an illegal substance, and I thought should i tell people what to do? This is really not my place. If you do something to yourself, it is your vice.
And I saw this video, and you're just making observations. So I saw the first two episodes of Hot summer homo, and an The element of this episode that comes up over and over in your work is a certain frustration with the younger generation of queer people. Is it a matter of maturity, or do you feel like there's something about queer identity that they don't understand or take for granted?
In this episode, and in a lot of my videos, I wanted to look like I was frustrated. I'm wrong, not them. It's me. It's the underlying bitterness: I'm old, they're young. But in real life, who can tell who is right or wrong? They could be on to something. But I think I understand that and get worked up in the entertainment process.
How do you come up with something like "snickers d * ck?" "
In fact, when I was 23, I was living with this guy who always brought in this transexual friend. She was talking about snickers dick. I was like What is that? And she said, "Girl, that's when you fuck somebody in the ass and go out and there's shit on your dick." I just remember thinking it was hilarious. I waited ten years to use it.
[Laughter]
Hope it's worth the wait.
So we are discussing after the release of two episodes. I'm not sure where you are coming from with all of this, but it seems a big part of the story is about the trauma of COVID on the community. In your mind, how has the community changed because of the pandemic?
Well, I feel like there are two different types of gays: people who bring out guns, do everything, as much as they can. Then there is a tiptoe back to the world. And you will see that in Hot summer homo.
Much of the humor in the show and in your work in general is also self-deprecating. You are always the hardest on yourself: your looks, your attitude, your age, everything. Why? Where is that from ?
I would be lying if I said the root isn't something that started years ago as a defense mechanism. If I'm funny people will want to be around me. If I make jokes everyone will love me. But doing it as an adult, I do it because I want the vibe to be lighter. I want to be the first person to joke about myself because I want others to do it too. And I want to clarify that I will also joke about them. So I can't do a skit where I bitch about other people and I'm the hero. It's not funny. You want to see [me] also to persevere. It shows humility in a way.
Yes.
And comedy is the # 1 thing. I don't make videos with hair, makeup, you have to look. I don't want to look like a dog, but my priority is to keep people entertained. And I'll do almost anything to do it.
How does this affect your self-image?
You know, it doesn't negatively affect my self-image. I do my best not to let life imitate art in this way. I don't wanna call myself fat or shlubby and then be like this is who i am. I really have to remember that I'm human first, trying to be healthy and get d * ck in real life.
[Laughter]
It's good, it's healthy. How do making so many sex and dating jokes affect your sex and love life?
It certainly affects him negatively.
Ah good?
I have so much less dicks since I started making videos.
[Laughter]
Extremely less. I've been to bars where …