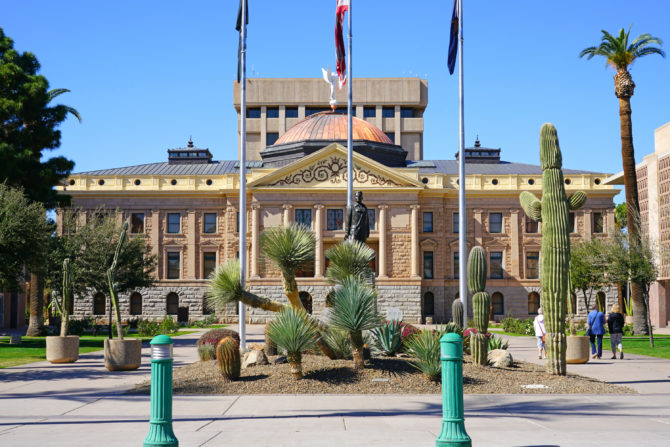 via Shutterstock
Republicans in the Arizona state legislature passed a bill that would allow parents to remove their children from education classes that would include LGBTQ history or sex education topics, including sex education. HIV prevention.
If adopted, SB 1456 would instruct the "school board of directors to develop procedures by which parents will be informed in advance, and will have the opportunity to adhere to their children, of any instruction concerning sexuality, gender identity or gender expression. " Parental permission would also be required for students to attend sex education classes. Sex education classes for fifth graders or younger are reportedly banned altogether.
Tuscon.com reports that the bill passed State House by a 31-28 vote online from the party. Supporters of the bill say it would guarantee parents what their children learn in the classroom. Opponents, however, fear that the bill would allow the removal of queer people and their history, and open the door to higher rates of STDs.
Related: This Arizona State Senator Wants To Make The Word 'Homosexuality' Illegal
"It is clearly intended to emphasize that there is something different about gender identity and gender expression," said representative Diego Rodriguez. "And this difference is something to be feared." He also pointed out that the bill would ban discussion of the LGBTQ rights movement, including the Stonewall uprising and the history of marriage equality or the AIDS crisis. The bill would also prohibit teachers from recognizing the sexuality of historical figures.
Representative Jennifer Jermaine also criticized SB 1456, fearing that a ban on discussing sexuality and the body in young children would also lead to higher rates of sexual abuse.
"Fifth grade is really too late for a lot of these kids," Jermaine said. "It is too late for them to learn the right touch / bad touch because they have already been assaulted, they have already been mistreated. And, more than likely, it was from someone in their own household. "
As of this writing, it's still unclear whether Gov. Doug Ducey, a Republican, will sign the bill. The passage of SB 1456 comes just two years after a law was repealed that prohibited teachers from discussing LGBTQ people as leading a "healthy lifestyle" or saying that gay people could have safe sex. The vote on the bill also comes just weeks after the Alabama legislature overturned the government's veto on a bill prohibiting doctors from treating transgender youth with hormone or surgical therapy.